3D ANIMATION
Artwork -- from drawings to computer illustration -- has been at the heart of my creative process. This gave me the chance to work with some of the most talented 3D animators in the industry, leading the development of a number of 3D productions for clients in the aerospace, emergency response and Homeland Security arenas.
Teamed with the extraordinary Greg DeSantis, my dear friend and frequent partner, we produced movie-quality briefings for senior DOD and intelligence service clients at both the classified and unclass levels. While I cannot share all of them, I have posted links to two examples from the AMRDEC Hellfire missile program in the column at left.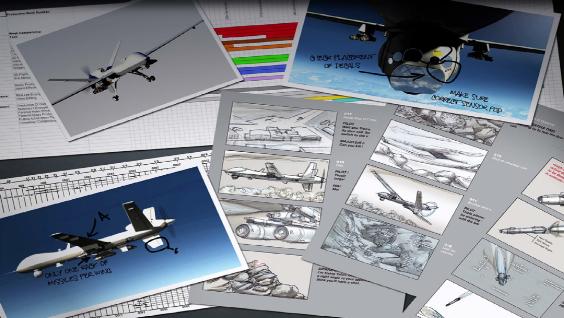 Greg continues to do utterly breathtaking things, his magic often so real that it blends seamlessly into a fantastic reality. Curator of the Museum of the Improbable, Greg is responsible for the animation and creative direction in independent films and short motion pictures like Diamond Farm as well as Shogun Tango.
This may seem out of place with the rest of my life, and perhaps it is. But early on in my career I designed and produced a wide range of clinically-accurate traumatic injury prosthetics and special effects for a number of national-level paramedic training programs to include such titles as Brady Emergency Care as well as Prehospital Emergency Care and Crisis Intervention. These complex, Hollywood-style photo scenarios included motorboat propellor injuries, wrecked cars with downed power lines and numerous compound fractures, punctures and amputations. Pyrotechnics, fake blood gushing everywhere, it was a ball.
These skills were later put to use to create live-actor mass casualty injuries when serving as training officer on a Washington DC area hazmat Special Operations Team.
This focus might seem like an odd skillset but I had the immeasurable good fortune to grow up living next door to the incomparable Guy Del Russo, a Hollywood special effects and make-up wizard who, among many credits, was part of the team that created the original Creature from the Black Lagoon. He forever indulged the wide-eyed kid in his workshop wanting to know how this and that all worked. His creativity and kindness have been an inspiration throughout my life and he is remembered always with boundless love.